Wedding Video Production – I DO … and Lightning Videos Can!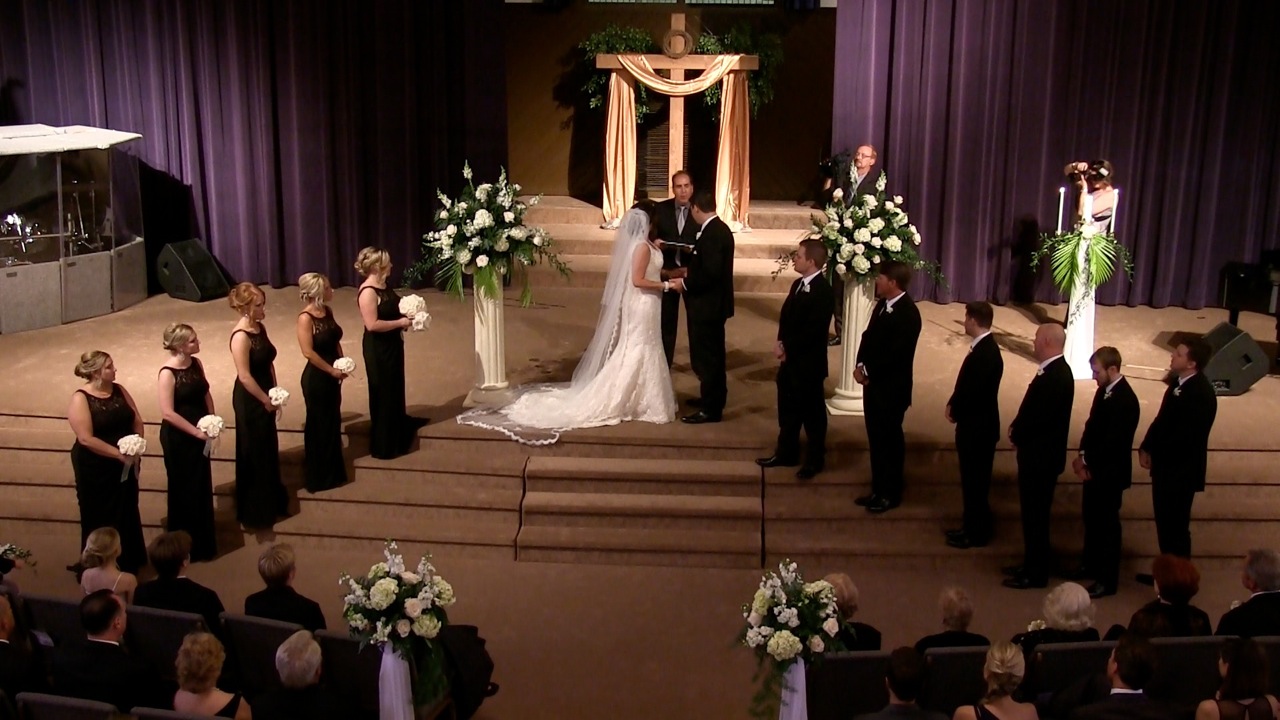 This picture is from our HD footage of a Wedding we filmed.
John Koterba has been filming weddings since 1980 for such notables as Charles Russell (Director of the movie, The Mask , Baseball super star, Rondell White and Diane and Lloyd Ecclestone of Palm Beach to name a few.
Recommended by the most famous photographers in Palm Beach such as: Davidoff Studios, Mort Kay, Lucien Capehart and others .
John and Lightning Videos is also recommended by the world famous Mar a Lago Club, Palm Beach,
Eau Palm Beach & Spa Resort in Manalapan, FL, and The Ritz Carlton in Key Biscayne Florida. We genuinely care about your perfect wedding video and we will capture the happiness, love, and emotion of your wedding day.
From the smallest detail to the largest, we will capture your wedding day in a high quality recording that will be enjoyable to watch over and over again for years to come.
Lightning Videos are the first to arrive on your special day to video the beauty of the church, synagogue or grounds, the bride and groom, the wedding party, and guests arriving. During the ceremony generally two cameras are used, one camera is placed up front with the bride and groom so that we have close ups of your faces, the ring exchange, the first kiss as Mr. & Mrs., and the faces of your guests.
The second camera is placed in the rear of the building to show the beauty of the ceremony that your guests are seeing.
(We also offer a one camera package of the ceremony.)We use wireless microphones to capture all the audio of the ceremony, especially the vows, which usually no one hears except the wedding party.
At the reception we capture your guests arriving, cocktail hour, and the beauty of the reception area, especially the decorations, cake, band, DJ, or orchestra, and gifts. During the reception we record the introductions, dances, bouquet and garter toss, guest comments and remarks from the bride and groom at the end of the day. We also stay to the end of the reception as we have heard from several couples through 30 years of videotaping weddings, that they were sorry that they did not have their videographer or photographer stay till the end as this was when many memorable things happened that was not recorded. Whether you have a band, DJ, or orchestra, we plug into their audio system so the audio is clear and not just a room full of noise.
Lightning Videos' packages include:
• 6 DVD's with chapters and a special 'highlights' chapter that has only the most memorable parts of the day (Run time is 3-5 minutes long). This is great for showing family and friends the highlights of the day without having them sit through the whole DVD. (More DVD's can be purchased for your guests and family members at an additional fee).
• The DVD's come in full custom cases with photos of the day on the cases with the bride and grooms picture on the DVD's.
• Fully edited and mastered DVD's in just one to two weeks.
We will produce your wedding video the way you would like. Please view a sample of a recent wedding below