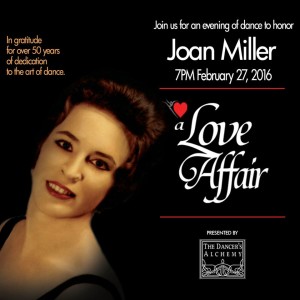 The Dancer's Alchemy
is hosting :


"A Love Affair" (To benefit Miss Joan Miller)  – Feb 27, 2016

50% of All DVDs will be donated to the Benefit for Miss Joan.
Miss Joan needs your support.
The Cost for this DVD is $45.00, and will be mailed directly to you.
Click on the Link below to order, and Thank you for your support.
"A Love Affair" (To benefit Miss Joan Miller)  – Feb 27, 2016